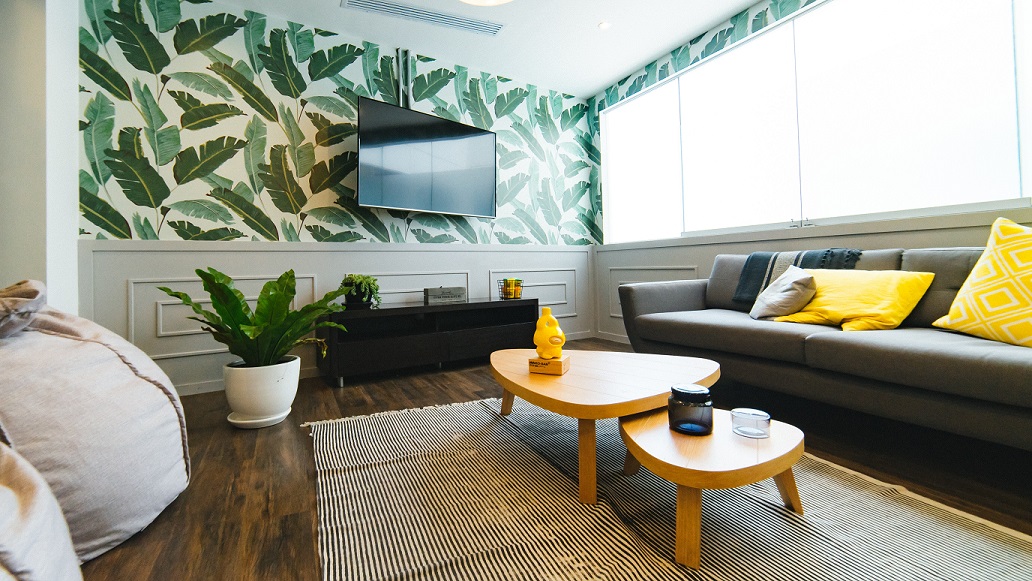 While renting is beneficial in many ways, it can be difficult to live in a space that someone else is in control of. You aren't able to change anything major, such as painting the walls or changing the fixtures. And you have to be extra careful not to damage anything and lose your security deposit. But, that doesn't mean you can't make your rental space feel like home! With a bit of inspiration you create a home that you will love coming home to.
1. Cover the walls with color
Think the only way to add color to the walls is by painting them? Think again! Removable wallpaper is totally in style and can add so much personality to a room. Think florals, wood, and simple patterns to instantly spruce up a space without being too overbearing. You can find removable wallpaper online at Amazon.com or at your nearest Target store. If wallpaper isn't your thing, you can also use fabric to cover walls!
Another idea is to add large-scale pieces of art that are colorful and fit your style. There are many affordable options through online shops, such as Minted.com. You can also have pictures printed on large canvases or if you'd rather, paint your own art and hang it up in your apartment. It adds the perfect personal touch to an otherwise boring space!
2. Boldify the furniture
If the flooring and fixtures in your rental are outdated or just not your style, there is still hope for your space. The key is to draw attention from the boring elements by adding pops of color elsewhere. Choose a color theme that fits your style and stick with it.
Colorful furniture is very popular right now and can instantly take a space from drab to fab! You can paint wooden chairs, side tables, and dressers with chalk paint. Or purchase a couch that stands out. If you're hesitant to be so bold, you can paint table legs or stencil certain areas of furniture for a subtle yet refreshing look.
3. Turn up the textiles
The easiest way to add pops of color and charm to a space is with textiles. Rugs cover a dull floor while adding dimension to a room. Curtains provide privacy while freshening up the room. Duvet covers, throw pillows, and blankets are all inexpensive items that add color to a space. You can also liven up the bathroom with a vibrant shower curtain, bathmat, and towels. The possibilities are endless when it comes to textiles!
Looking for some direction in color choice? If you want a calm, relaxing feel, go with cool tones such as blues, lavender, or light green. If you prefer an energizing, cheerful space, use bright tones that pop like reds, oranges, or coral.
Renting can feel restrictive in many ways but it doesn't have to be! You can still have a home that fits your personality and style among all the rules and regulations. By bringing in some color you can completely transform the look your rental without actually changing anything you aren't allowed to.